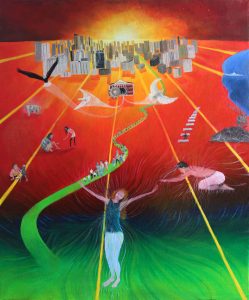 Wow what a journey, all the artwork for the illustrated book  Rainbow Turtle, Golden Dolphin was just finished last weekend. Incredible! It's been 3 years in the making and now it's nearing completion.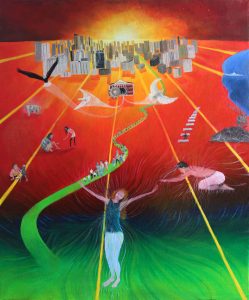 This image on the left is from the last few final pages.
It represents a shift into a new way of living here on earth. The military can be seen discarding no longer needed weaponry and dismantling bombs that no longer serve a purpose.
Birds are flying out of the a bank building with the word economy written upon it, the door is a safe that is open. Symbolically representing a freed economy. An elephant is running free from a city zoo and all the people are migrating away from the city to return to live in nature. The hungry are fed and the poor are being given money.
People are now finding powerful ways to connect to the land and to themselves. (more…)